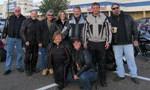 Our Fall 2010 reunion ride took place on Saturday, October 16. Ten riders on eight motorcycles ventured out for a lovely ride on a nice, brisk Fall day on Long Island. The group rode along the scenic north shore out to Riverhead then down to Westhampton Beach and back west again along the water on the south shore. We had quite an assortment of motorcycles!
Joining us were Allan on his Honda Fury, Eduardo and Maureen on their Can-Am Spyder, Jerry on his Honda ST1300, Felice on her Honda VTX1300, Randy on his Honda ST1300, Michael on hist Kawasaki Vulcan 1500, Diane on her Yamaha FZ6 and George on his BMW R1150R.
We finished the day at the Main Event restaurant in Plainview.
Leave a Reply
You must be logged in to post a comment.